Portable X-Ray Services at Home in Mumbai
MD Portable X-ray services are the first Portable X-ray service to Utilize Digital X-ray DR Systems in Mumbai. New Advanced Japanese Technology. 
Get Portable X-Ray Film softcopy of Digital X-Ray DR System immediately on the spot. X-Ray Radiologist Reports Within 30 Minutes. No Need to travel to any X-Ray Centre anymore with your broken bones or in pain, don't worry we'll come to your home with our Portable X-Ray Service.
MD Portable X-ray services is one a kind. It the first ever Portable X-ray service to Utilize Digital X-ray DR Systems in Mumbai. It is a provider of dependable and convenient services of health care services like a blood test, ECG and X-ray right at home, in Mumbai.
For all those searching for portable chest x ray at their convenient location, MD Portable X-ray is a flawless option. MD Portable X-ray services runs on the New Advanced Japanese Technology.
With us you get Portable X-Ray Film softcopy of Digital X-Ray DR System on the spot, at your place without having you to worry about waiting for days to detect injury. By mobile x-ray enjoy the feature of receiving X-Ray Radiologist Reports Within 30 Minutes on your device.
It costs less to be safe every day than to make one careless mistake along the way. Keeping that in mind portable X-ray takes due care of patient's safety, Portable x ray at home is an alternative where you need not to stress about erroneous test conducted by a naïve or newbie technician as the team of our heath care provider is highly reliable, holding expertise and experience in its field.  Moreover, the tests are conducted with the help of right tools where you get error-free analysis of your deformity.
 Portable X-ray is like a blessing for the severely injured, bedridden and sufferers of critical disorders. For the people diagnosed with heart diseases and other issues in the functionality of an organ, we are up with the services like ECG. So, do not think much, you are just a click away from making the long going procure, a work of flash of seconds.
In case of seeking blood sample collection at your residence at portable x-ray in Mumbai and get quick access of your blood test evaluation transported on your mail within few hours.
He who has heath has hope; and he who has hope has everything. And so being a part of health profession, we owe set of duties and responsibilities towards the population by keeping up with their hope in the crucial times. We understand you and your problems and thus are determined to deliver a quick remedy to it.
In brief even in urgent circumstances we are available as your helping hand. Breathe in, relax yourself and sit back on your couch. Now stop burdening yourself with the long hours of traveling to any X-Ray Centre or hospitals anymore with your broken limb in pain or to cardiologist in case of anxiety ruling down spine in your dear ones.
It is a cost effective, easy, and handy option for all Mumbaikars. In fact, in case of prescribed regular check-up for bedridden, critically ill as well as pregnant women, you can trust on our facilities curtailing your troubles. Give us an opportunity to assist you by availing services from portable x ray at home near me, further we ensure you a great experience to remember and recommend others at the place of as per comfort. Know More
We provide high quality digital X-Rays at your home. Easy steps for a Home X-Ray.
Easy is it not?
In case you need us, we are a phone call away.
Portable X-Ray Services provide a Mobile X-Ray facility with Bedside Comfort and Doorstep convenience. Portable X-Ray Services is a health care innovation that offers doorstep digital X-Ray facilities.
At Portable X-Ray services you get X-Ray facility at your convenient location as per your comfort. It all starts with simply searching for x ray home services on your device and booking for the same, thereafter an experienced technician comes readily to your doorstep for carrying out an error free X-ray with due precaution right beside you. Portable X-Ray option is a health care innovation that offers digital portable x ray at your home.
Wellbeing is abundance says the ages-well-known adage and one understands its actual worth on finding himself or near ones trapped within a serious illness or receiving bodily injuries leading to make the life bedridden.During such times anxiety of speeding back and forth to hospital can make things even more exhausting for both patients and their family. To exacerbate the situation, there is the burdening X-Ray assessment to be done that takes away your valuable investment as well as time.
Nonetheless, you need not to worry anymore when Portable X-Ray Services is available in your city, Mumbai. An extraordinary aid in the times of distress, it is a fantastic choice when you are searching for a compact x-ray at home in Mumbai where you get your reports within no time. Know More
Use InstaECG at portable x ray, where patients get access to the Cardiologist Certified ECG reports right within a period of 10 minutes. Express ECG product is a cloud-connected device which makes the interpretation and analysis of an ECG report much quick and easy.
A person must not wait to get himself diagnosed for Cardiogram reports in case of unusual pain in the heart, anxiety, shortness of breath or other growing mental health problems like depression, looking at the escalating rate of heart related disorders in the urban masses.
Portable ECG at home in Mumbai offers your desired services right within the place of your comfort and availability without having you to worry about a thing.
For getting your reports in hand in ordinary course you chase doctors and run behind clinics days after days. But with us you have your solution of getting the test done along with receiving reports without keeping a step ahead.
For a patient diagnosed with heart trouble it is extremely important for him/her to keep a track of heart fitness which calls for regular cardiogram. Moreover, it needs to be done before an operation or surgery. By opting for ECG at home in Mumbai, not only can you save your precious time but also minimise the expenses as well as time for having your examined reports with yourself. Know More
Blood Test @ your doorstep!
Blood test helps you to have a check on developing diseases or other health related disorder arising in your body. It needs to be done regularly by each individual regardless of his health status. By blood sample collection from home Mumbai, you can save your valuable time and effort. It is an ideal fit for all those who can not step out for getting their test done by visiting diagnostic test centres.
Blood test near me in Mumbai is your go-to-option for getting trouble-free blood sample collection service at your residence. With us you get your blood test done at your place along with receiving your blood sample report on your screen, within short duration as per the evaluation drawn by the team of our highly qualified pathologist.
When you choose to avail our service, be rest assured as our technician visits your location well equipped with all the required tools to do the needful. Other facilities are also undertaken by us like medical tests at home if the patient is unable to go to the Diagnostic Centre.
Getting a blood test at home is a step for the patient's convenience and comfort. Now you no more need to waste time at hospitals and clinics or travel for your appointment. With us you get the examined lab reports emailed on your device free of cost.  Know More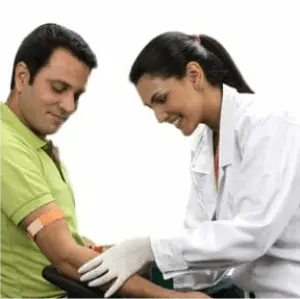 Governor of Maharashtra. Bhagat Singh Koshyari
All our tests are processed at NABL(National Accreditation Board for Testing and Calibration Laboratories) & CAP(College Of American Pathologists) Accredited labs.
• Agripada • Breach Candy • Dadar East • Girgaon • Kandivali • Malabar Hill • Mumbra • Sewri • Altamount Road • Byculla • Dadar West • Goregaon • Kandivali East • Malad • Nahur • Sion • Andheri • Carmichael Road • Dahisar • Goregaon East • Kandivali West • Malad East • Nariman Point • South Mumbai • Andheri East • Cavel • Dahisar East • Goregoan • Kanjurmarg • Malad West • Navi Mumbai • Tardeo  • Andheri West • Charni Road • Dharavi • Goregoan West • Kemps Corner • Malbar Hill • Nerul • Thana • Antop Hill • Chembur • Dhobitalao • Govandi • Khar • Mankhurd • Panvel • Thane • Bandra • Chinchpokli • Diva • Grant Road • Khar West • Marine Drive, Mumbai • Parel • Thane West • Bandra West • Chunabhatti • Dockyard Road • GTB Nagar • Kharghar • Marine Lines • Powai • Tilak Nagar • Belapur • Churchgate • Dombivali East • Jogeshwari • King Circle • Masjid Bunder • Prabhadevi • Trombay • Bhandup • Colaba • Dombivli • Juhu • Kopar Khairane • Matunga • Reay Road • Vashi • Bhandup West • Cotton Green • Dongri • Juinagar • Kurla • Mazgaon • Sakinaka • Vidyavihar • Bhayander • CST • Elphinstone • Kala Ghoda • Kurla West • Mira Road • Sandhurst Road • Vikhroli • Bhuleshwar • Cuffe Parade • Fort • Kalbadevi • Lalbaug • Mira-Bhayandar • Sanpada • Vikhroli East • Borivali • Cumbala Hill • Ghatkopar • Kalwa • Lower Parel • Mulund • Santacruz • Vile Parle • Borivali East • Currey Road • Ghatkopar East • Kalyan • Mahalaxmi • Mulund West • Santacruz East • Vile  Parle East • Borivali West • Dadar • Ghatkopar West • Kamathipura • Mahim • Mumbai Central • Seawoods • Vile Parle West • Virar • Wadala •  Walkeshwar • Worli • Pali Naka Khar • Khar Danda • Kalina • Vakola • Irla • Juhu scheme • Nehru Nagar Kurla • Kohinoor City Kurla • Union Park Chembur • Diamond GardenChembur • Chedda Nagar Chembur • Swastik Park • Maitri Park • Sindhi Society Chembur • Tilak Nagar Chembur • CGS Colony Antop Hill • Navy NagarColaba • Pedder Road • A H Wadkar Baug Parel • Behram Baug Jogeshwari • Bhjarucha Baug Andheri West • Borivali Parsi Association • C J Colony Tardeo • Cama Park Andheri West • Captain Colony Tardeo • Contractor Baug Mahim • Cusrow Baug Colaba• Dadar Parsi Colony • Dhunbai Wadi Vile Parle • GamadiaColony Tardeo • Godrej Baug Malabar Hill • Godrej Colony Vikhroli • Jer Baug Byculla • Khan Estate Mahim • Khareghat Colony Babulnath • MalcolmBaug Jogeshwari • Marazban Colony Dalal Estate • Navroz Baug Lalbaug • Ness Baug Grant Road • Nirlon Colony Goregaon • Panthaky Baug Andheri East •Rustom Baug Byculla • Salcette Colony Andheri East • Shapur Baug Lamington Road • Tata Blocks Bandra West • Tata Housing Society Elphinstone Road • ThaneParsee Association • Zoroastrian Colony Grant Road • I.C. Colony• Eksar Colony• Shimpoli• Gorai • Kora Kendra • Vazira Naka • Babhai • Chikuwadi •Yogi Nagar Magathane • Nancy Colony • Sukurwadi • Amboli • Chakala • D.N. Nagar • Four Bungalows • JB Nagar • Lokhandwala • Marol • Model Town • Oshiwara • Poonam Nagar • Sahar • Saki Naka • Seven Bungalows • Versova • Gandhi Nagar • Surya Nagar • Kannamwar Nagar • Tagore Nagar • Park Site • Godrej Station Colony • Godrej Hillside Colony• Godrej Creek • Amrut Nagar • Asalfa • Garodia Nagar • Jagdusha Nagar • Pant Nagar • Dindoshi • Sunder Nagar •Pathanwadi • Rani Sati Marg • Malvani • Ambhujwadi • Evershine Nagar • Liliya Nagar • Charkop• Poisar • Hindustan Naka • Mahavir Nagar • Samta nagar •Damu nagar • Thakur complex • Thakur village • Lokandwala township Kandivali • Akurli road Janupada • Hanuman nagar • Bhakti Park Wadala • Dosti AcresWadala • Lodha New Cuffe Parade Wadala • Dadar East • Bandra Kurla Complex • Pali Hill Bandra Reclamation • Mount Mary Road • Hill Road • JVRL Jogeshwari • Oberoi Splendor Jogeshwari• Hindu Colony Dadar East • L.I.C. Colony aka Jeevan Bhima Nagar